Evolving
There's Always Something New to Try
Wild Blossom Farm began in 2017 as a partnership between Jordan Sanocki, and myself, Mike Wagner, on several beautiful leased acres in Ottsville, PA. We had two fun seasons of trialing new processes and building lasting relationships. Prior to the 2019 season, life led Jordan to pursue a more lucrative and stable non-farm opportunity. And this opened a window for me to fulfill a somewhat overwhelming dream of building the farm on my home property in Warrington.
I was raised a city-kid in Philadelphia, and my first real career was 15 years in wholesale tool & equipment distribution in Philly. Eventually my partner Katie and I moved to this overgrown, ignored piece of land – formerly an orchard, once upon a time. I knew that what I was doing in my career just didn't matter – I wasn't involved in anything essential to life, or making anyone else's life better, or even satisfying my own curiosities and desires. So when the time was right, I quit – and sought out a position on a small local farm where I could learn for a few years. With mountains of effort and years of chipping away, we were able to open enough space, reclaim the soil from the choking vines and invasive plants, and gain enough knowledge and experience to make growing food possible again. So now it's just me, with Katie's help at the markets, and even though I still get crazy from time to time, it's a good life moving in a better direction.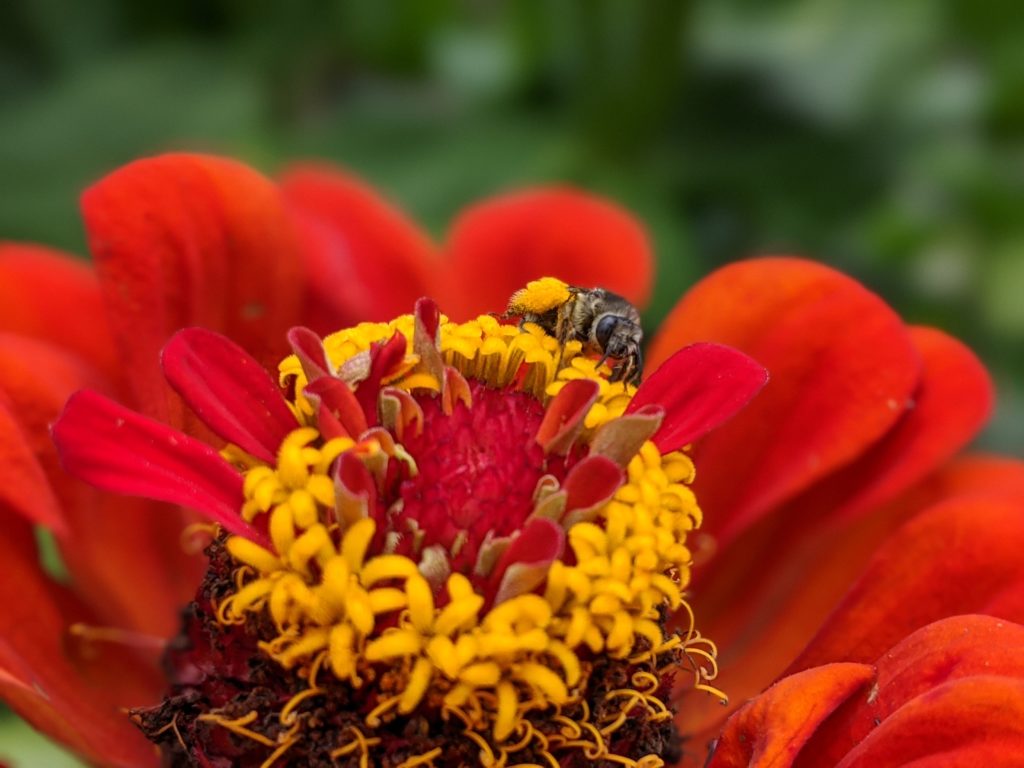 The Big Picture
Encouraging & supporting nature's systems
Our aim at Wild Blossom Farm is to encourage and support complex natural growth systems within our environment, while offering transparency to the people eating the literal fruits of our labor.
Natural growth takes place in the wild areas. You don't fertilize a forest to make it grow – the system is already in place. You don't soak a forest in pesticides – diversity fosters systemic health. Sometimes a new insect or disease arrives and damages a part of the forest. We can intervene if there is a safe, effective method, or we can live with the losses, knowing that the forest will survive and renew itself in the long run.
We're trying to mimic what nature does – in a way that allows us to choose the plants in the system, and harvest quickly and efficiently from these plants .
For us, this includes some degree of intertwining the growth of annual vegetables with perennial vegetables, fruits, herbs and flowers.
It implies a careful, thoughtful plan of appropriate companions and well-timed successions. It means watching the individual components for success and failures – then judiciously deciding which of these should be supported or replaced.
Whole system support prohibits the use of artificial chemicals, which will interrupt or destroy natural systems.
It means limiting or even eliminating soil disturbance (tilling) to allow the complex underground web of microbes and fungi to develop and thrive. By eliminating tractor use and greatly reducing fossil fuel inputs, we are ensuring a clean, productive space that is able to withstand market fluctuations going forward. Now that we are no longer leasing property, we can afford to make the long-term investments necessary to eliminate the need for a tractor, and to develop a process centered on permanent beds. We have gotten small and dynamic in order to grow better.
We are creating the healthy soil conditions that make plants WANT to grow!
Healthy soil (minerals, microbes, mycelia & more!) leads to healthy plants. By their very nature, healthy plants are resistant to disease and insect pressure. Healthy plants produce healthy food which ultimately leads to healthy people.
With 100% of our produce being sold locally, we don't have to be a faceless farm to you. We invite you to visit us by appointment and observe our practices for yourself.
This is the way we want to grow. Always working out the translation from ideal to practical. It is an ongoing experiment – keep what works and learn from what doesn't. We are seeing now just how much food can be grown in a small space. But there is no point in pushing these boundaries if no one is interested in truly eating well and buying this food.
Your support has been crucial in making it all work for us and for you! Thank you!!