2021 Wild Blossom Farm Supporter Program
making real food more affordable
Thank you for your interest and participation!! Membership is now full for the 2021 season, but here is the info in case you are interested in the future.
It's good to know we were able to go through last year still able to see familiar faces (even with the masks!) at the markets. Seeing our communal resilience in action, both as growers and consumers, helps push us forward through tough times. As we all creep toward some hopeful return to normal, we want to continue to provide access to safe, high-quality, organically-grown food.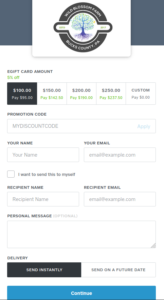 The program is mostly the same as last year – you get a discount for paying up front for the veggies you will choose throughout the season, which runs from June into November. One big difference is that we will be taking orders every other week, rather than weekly. Also, this year we will provide an additional option.
Here's how it works:
You purchase a discounted e-gift card, then use that to place your orders online. (i.e. – you buy a $100 e-gift card for $95 and then use it to buy $100 worth of produce over the course of the season)
(When you buy the card, assuming it is for yourself, you would fill in your own name for both "Recipient Name" and "Your Name" in the example pictured here.)
You can then pick up the orders at your regular farmers market, or choose to have the orders delivered to your home with no extra charge (within 13 miles of Warrington, PA.) With more of us back to work, I will likely make some delivery runs on the weekend to be sure someone is home to receive the order – basically I hate the idea of the food just sitting there lonely and waiting! I'll have a better idea of this once I know who's on board.
You will get email or text notice when the ordering period is opened each week. And we won't be doing pre-orders for the markets this year, (as of now,) so there should be greater availability for this program.
The discount is 5% for new supporters and is available until April 1st, or until the program is full, whichever comes first.
While I would prefer you use the full amount in 2021, there will be no expiration on the gift card – so if you don't use it all, the balance will carry over.
So, the main benefits:
A small discount on market prices
Free delivery or packaged pickup
Access to limited quantity items that might not make it to market – eggs, berries, dried herbs/spices, specialty veg.
In an attempt to increase accessibility, this year we will also offer the "Wildcard" Option.
This option will include odd shapes and sizes, or vegetables with cracks or spots or other blemishes that may detract from their beauty, but not the flavor or nutritional value. Only fresh, pretty-on-the-inside vegetables – never old or spoiled. This is the food that Katie and I generally eat, while the prettiest food goes to the markets. And, as nature and I collaborate better as growing partners, the fewer funky foods there are – so figure on a mix of pretty-on-the-outside veg being included too. It is less likely to include the bagged and washed greens (salad mix, arugula, spinach) as the process doesn't really allow for the misfits to make it that far – but if there's a particularly large harvest, I'll end up tossing some in there.
There will be 11 or 12 total deliveries (every other week, throughout the season – Jun-Nov) of a mix of seasonal vegetables – with each delivery valued at $25 if sold at market-perfect price ($275-$300 for the season.)
The total cost for the Wildcard share is $150. So by accepting some imperfections, you're effectively paying half-price. Plus free delivery if you want it!
The Wildcard is intended to make our locally-grown real food available for people who value it, but might otherwise have difficulty getting it on their plates. In style, it is more similar to a traditional CSA in that you get what you get, but I will look for input on things you can't/won't eat, or things you particularly favor. The Wildcard is a very limited program, so if it interests you, please get in early.

Leafy Greens
The heart of salads, crunch of sandwiches, and final piece to soups and sautees. Lettuces, spinach, chard, cabbage, radicchio and escarole are standard offerings.

Root Crops
These earthy crops are at the "root" of our offerings. (You're welcome! 🙂 ) Throughout the season, there are radishes, beets, carrots, potatoes, onions, turnips and more to create the backbone of good meals.
Tomatoes
Heirloom and cherry tomatoes are always a market favorite. And we'll be serving them up again, along with their relatives, peppers and eggplant.